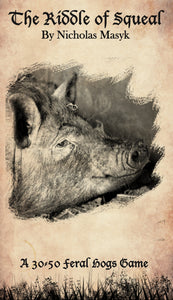 Riddle of Squeal
$000

$0.00
Tax included.
Shipping
calculated at checkout.
---
---
This is a digital-only product.
A game about 30-50 feral hogs.
Hearken to you two to five companions that enjoy awful puns, a number of six-sided die, some scraps of paper and a few pencils. You'll want a rough-hewn table cut from a single length of ironwood, set before a roaring fire in a boisterous mead-hall, with mugs of ale and meat off the spit close at hand. Or, someone's basement. Nominate one among you to be the SWINESCHAL: it is their responsibility to present a tale of high adventure. The others take on the role of HOGBEARERS: proud and upright defenders of hogkind.
---

Layout and Design by Dee Pennyway: https://deepennyway.itch.io/