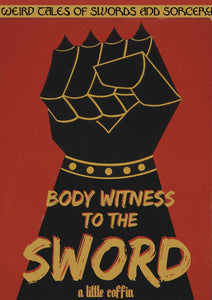 Body Witness to the Sword
$000

$0.00
Tax included.
Shipping
calculated at checkout.
---
---
This is a digital-only product.
Disease and famine has struck Chrysanthemum Valley. Something is killing off both the sweetfish and the mulberry shrubs the valley is known for, threatening the livelihoods of everyone in Crossroads Village. Duke Teru sees witches wherever he looks, and has dispatched several of his knights to find the source of what he insists is a curse. Unbeknownst to him, the Lady Aki has discovered a secret silver mine; the blasting is killing water and soil both, but she plans to be long gone with the silver by the time the Duke discovers her duplicity...
An introductory adventure location for fantasy tabletop adventure games. Suggested for a party of 3-4 level one adventurers. Suggested rules: Kanabo.
words by N. Masyk
map by Dyson Logos.
art by Azrai.
other art in the public domain, curated by Guilherme Gontijo.
the Random Adventure Jam is thanks to Chris Bisette.