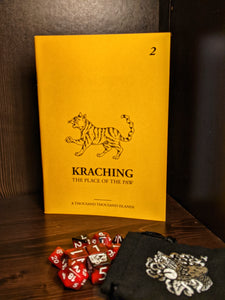 Kraching
$1000

$10.00
Tax included.
Shipping
calculated at checkout.
---
---
44 pages, staple-bound softcover, A5. Color cover, black-and-white interior. New. 
A valley where cats are holy, and timber haunted.
FIVE DAYS ON FOOT, WESTWARDS
Wooden posts line the road. Carved with feline forms: snarling tigers, sulking tabbies. You feel them staring.
+
In Kraching, woodworking is revered. The surrounding forests are full of haunted timber, longing to be carved into masks and figurines; they want to see the world.
In Kraching, cats are revered. Scions of the god Auw, they are welcomed as equal members of any household; they hunt game and lend magic.
Sometimes a carved wooden tiger vanishes, and returns as a tom. Sometimes a woman walks into the forest, and a tabby walks out again.
+
Kraching is an adventure setting inspired by forest-adjacent life, Mah Meri woodworking, and the place of cats in contemporary Malaysian culture. A rules-less, 44-page gazetteer filled with characters, rural drama, and detailed black-and-white art. A sample of the mythic cycle of a regional god. Random encounter and magic-cat generators.