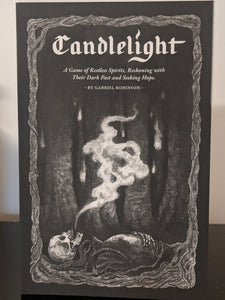 Candlelight
$1200

$12.00

Save $9
Tax included.
Shipping
calculated at checkout.
---
---
48 pages, perfect bound, black & white cover and interior. Used.
Candlelight is a role playing game about the restless spirits of treasure hunters reckoning with their dark past and seeking hope in a haunted forest that wants to trap them there.
It is a one-shot, rules-light game, focusing on collaborative and thematic storytelling and is designed to be flexible in how you bring it to the table:
An

 

epilogue

 

for any fantasy game following character death - especially a TPK!
A world-building

 

prologue

 

for any game needing a haunted forest or other cursed place. 
A stand-alone game exploring themes of dark fantasy and supernatural horror - with a glimmering of hope and redemption. 
Candlelight is a game for 1 or more players and a GM. Character creation is simple, taking place as part of the game introduction. The game uses six-sided dice of 2 colors (light and dark) and each session runs approximately 3-4 hours. While the game is based on dark fantasy and horror themes, conversations about player expectations and the use of safety tools are encouraged to best fit the tone of game you want at the table. Ghost stories can be bleak, dreadful, terrifying - but also reflective, inspiring and even hopeful. The paths you choose through the forest are up to you and your group.
Candlelight is Rooted in Trophy, using the core system of Trophy Dark to tell as story of desperate characters pushing their luck in a place that constantly threatens to overwhelm them. The key difference here is that the characters have already met their doom - while Trophy Dark progresses through a series of Rings and escalating horror, Candlelight starts at that final Ring where the characters have just died. It is at the dark heart of the forest that they will begin their journey, retracing the steps they took while living, seeking hope and an escape from the forest before they become a monstrosity that haunts it forever.
Candlelight is a complete, stand alone game which includes rules for play, tips for running the game and a series of tables to quickly add character creation and story options to your game with little preparation.