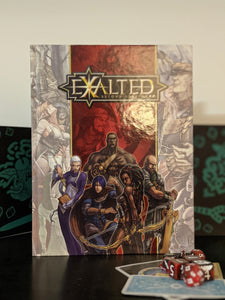 Exalted Second Edition Core Rulebook
$1900

$19.00

Save $8
Tax included.
Shipping
calculated at checkout.
---
---
Hardcover, 400 pages, used.
"Do not believe what the scientists tell you. The natural history we know is a lie, a falsehood sold to us by wicked old men who would make the world a dull gray prison and protect us from the dangers inherent to freedom. They would have you believe our planet to be a lonely starship, hurtling through the void of space, barren of magic and in need of a stern hand upon the rudder."