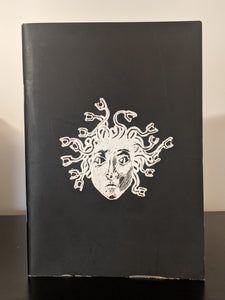 Spoils of the Gorgon Coast
$1200

$12.00

Save $9
Tax included.
Shipping
calculated at checkout.
---
---
60 pages, A5, saddle-stitched zine, color cover, b&w interior. Used.
SPOILS OF THE GORGON COAST is a procedural generation toolbox for the fantasy horror game Best Left Buried. The random tables within present Doomsayers with the tools to randomly generate their own version of the Gorgon Coast, a picturesque region of Lendal beset once again by war. Throughout the lands are the ruined vestiges of a former imperial power, Ancient Taurochtalia, cast down in ash and strife!

Now long-forgotten in the wider world, the former power struggles for new prominence in the clutches of its sinister Inheritors: former imperial nobility whose obsession with monstrous eugenics brought about their empire's collapse. The Inheritors gather armies of Freeblades and Cryptdiggers alike to plunder the wreckage of old and plunge the Gorgon Coast into a war of a succession for its blackened throne.

Included alongside a massive array of random tables detailing the various biomes and settlements of the region are stats for 27 brand new monsters, tables to expand the idea of Cryptdigger companies and a host of factions vying for power within the region.

Written by Brian Richmond. Art by Ben Brown.