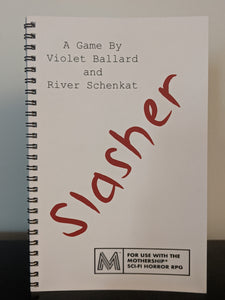 Slasher
$1600

$16.00
Tax included.
Shipping
calculated at checkout.
---
---
36 Page, Wire O Bound, Laminated Cover, 5.5"x8.5", Full Color
Welcome to Slasher, an asymmetrical cooperative comedy horror game built using a vicious, minimalist version of the Mothership RPG system. Slasher is inspired by The Cabin in the Woods, Dead by Daylight, and classic horror movies.
We like to refer to Slasher as a puzzle crawler because you move through each level developing solutions to vanquish or escape from increasingly strong horror villains while collecting more items to assist with future encounters. Direct combat is highly discouraged and will likely lead to death, each encounter is a puzzle in and of itself.
Slasher features a roguelite structure with light character progression and item collection where your party must complete all the levels without a TPK, or they start back at the beginning with brand new characters. However, as long as one person survives a level, your party is able to create new characters to keep moving on to the next.
This module includes:
Generated artwork created by idofinternet

10 character classes

Rules for custom classes

Rules for classless characters

10 starting weapons

10 pieces of starting equipment

11 levels with narrative introductions

11 Slashers inspired by iconic horror villains and creatures

Jack

Leathermask

Johnson Vorhimes

Mitchell Dyers

Piranha

Heinrich Kroger

Squashface

Killbot

Nailskull

Vernetta

Old One

10 gameplay items

100 Slasher items

Character sheets and player facing rules handouts
Mothership RPG are trademarks of Tuesday Knight Games. For additional information, visit www.tuesdayknightgames.com or contact contact@tuesdayknightgames.com.
This product contains assets that were procedurally generated with the aid of creative software(s) powered by machine learning.