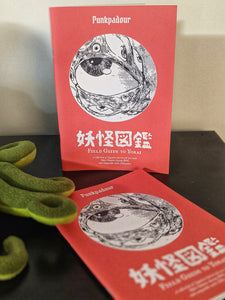 Field Guide to Yokai
$1700

$17.00
Tax included.
Shipping
calculated at checkout.
---
---
56 pages. A5, staplebound softcover. Black & White plus Red. New.
Yokai are, literally and etymologically, attractive and bewitching mysteries.

The term's wide use, especially in popular culture, makes it difficult to translate and define. By greatly simplifying, we could say that yokai are supernatural beings who inhabit the borders between our reality and the "other world," allowing themselves to be seen under certain circumstances. They may adopt inert or living forms: human, animal, vegetable, or a mixture thereof. They also tend to represent a corruption of the elements of nature.


About the Book:
A Field Guide to Yokai is a collection of Japanese horrors for use with Yokai Hunters Society (the rules-light pen & paper RPG about monster hunters in Meiji Japan) or the OSR game of your choice.

Format & Content:

Black & White plus Red
35 different yokai with 35 original illustrations, descriptions, and stats for the original game and OSR systems.