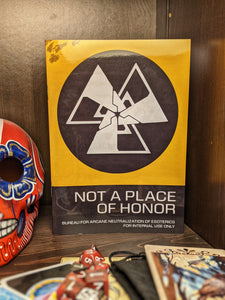 Not A Place Of Honor
$1600

$16.00
Tax included.
Shipping
calculated at checkout.
---
---
36 pages. A5, Full color. New.
Not A Place Of Honor is a "found footage" style account of ancient storage facilities for apocalyptic magical artifacts. One part SCP Foundation and one part nuclear waste containment, told through the journals of the enigmatic Archivist and government documents.
NAPOH presents both dangerous artifacts, and the means to keep them safe. The magical artifact storage sites and information levels are designed using the guidelines laid out by real life government researchers studying how to keep nuclear waste storage sites untouched for thousands of years.
Journey through these sites while accompanied by the Aural Awareness Activation Package, or Music To End The World To, the incredible soundtrack created by Gary Sevison.


Contains:
36 page Not A Place of Honor book in high quality and low size formats.
8 catastrophic magical artifacts illustrated by Emanoel Melo.
A stunning soundtrack which follows the journey into the center of a site.
Printer friendly player handouts for each artifact.
Tables to generate magical artifact storage sites.