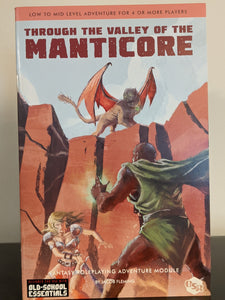 Through the Valley of the Manticore
$1600

$16.00
Tax included.
Shipping
calculated at checkout.
---
---
In the desolate and forbidding canyon lands, Hurloror Canyon is home to only the bravest and most hardy. The road that leads through it is the only way to navigate this dangerous wilderness. Travelers and merchants alike must face the canyon so that trade and commerce between city states can carry on. Much depends on the road remaining open and unimpeded.
Fort Davelmag, the only safe refuge in the canyonlands, stands as a beacon for weary travelers and a testament to the will of the lawful. Once a military fortification built to hold off the advancing forces of chaos, now a way station for merchants and caravans, with a small detachment loyal to the crown stationed here. Now the residents of the Fort face a far more devious threat than the harsh environment or hungry beasts.
Through the Valley of the Manticore has players traverse winding sandstone slot-canyons and explore natural cave systems rumored to contain hidden relics of immense value and magical power. Sooner or later they may realize that they are mere pawns in a game being played by an unnaturally intelligent monster. They will need cunning as well as strength in order to overcome this bizarre and terrifying tale.
Through the Valley of the Manticore is designed as a module. Use it as a standalone adventure, graft it onto your existing campaign wherever you find dry, broken lands. 
The layout is designed with clarity and usability in mind. Dungeon maps are easy to read and their corresponding room descriptions and relevant monster stats are placed so that they are all on the same spread—less page flipping!